Reverse Backing Systems LCD Full Size Truck Wireless Proximity Sensors. The system alerts the driver to the distance of obstacles while reversing. It is comprised of up to 4 sensors, a central control processor, LCD Screen and a buzzer. The buzzer produces an audible warning and the LCD Screen provides the distance to obstacles in feet.
Included in Kit
• Four 20 m.m. sensors
• Controller
• Drill bit
• LCD Screen
• Owner's manual/installation instructions

• WATERPROOF!
• Wide Operation voltage: DC 10V - 24V

• Power consumption: <4W

• Operating temperature: -4°F - 194°F

• Detection distance: 1.3 - 8.2 feet

• Waterproof
When reversing, the 4 rear sensors that are installed on back bumper send ultrasonic waves to detect obstacles behind the vehicle. The controller receives signal and the amp transmits to Speaker and LCD Screen
Speaker emits long intermittent beeps at 4-6 feet, and LCD Screen displays distance from obstacle in feet. As you move closer to the obstacle, the LCD Screen changes from Green to Red and the beep increases in frequency. When you are 1 foot away from obstacle, the sound is continuous and the LCD Screen is bright red.
Power is supplied by tapping into the reverse lights which means that the device is only on when you are in reverse.
Features:
• Accurate measurement
• High sensitivity
• Wide detection range
• small blind area
• Sound alarm
• LCD Screen
• 15 Foot Range
• 3 Volume Levels For Speaker

• WATERPROOF!

Made by

Reverse Back Systems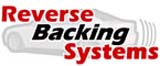 This product carries a Full Manufacturer's Warranty!