Reverse Backing Systems now offers a License Plate Frame Reverse Backing System, exclusively at Slickcar.com. The Controller is not waterproof, but you mount it in the trunk. or somewhere in the rear of the vehicle which cannot get wet. Run Speaker to the front of the vehicle, wires have an 8 foot range. As you move closer to objects the frequency of beeps increases. easily installed at the top or bottom of the license plate, Easy Installation also includes power off the reverse lights.

Made by

Reverse Back Systems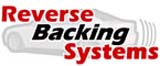 This product carries a Full Manufacturer's Warranty!