Reverse Glow Gauges can change the way you look at your car. It is the one part on your car that you look at every time you drive. So why not make it exciting to look at. These gauge faces fit over your factory gauge face. Make your drive a little more enjoyable with these Reverse Glow Gauges.
FEATURING A CLASSIC WHITE GAUGE FACE WITH BLUE LETTERING. ALL CAUTION AND MPH READINGS ARE IN RED. WHEN LIGHTED, THE GLOW COLOR ILLUMINATES THROUGH ALL MARKINGS, GIVING A "REVERSE" EFFECT. .
Fits Manual Trans ONLY


Actual item may differ. Photo for illustration only

Made by

El-Dash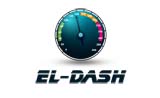 This product carries a Full Manufacturer's Warranty!